Features:
1. Can be made according to customer's plan
3. Time saving for construction
4. No pollution during construction
5. Use non-toxic green materials
6. Insulation system reduces energy consumption
7. High degree of stiffness and light weight
8. Concrete foundation
9. Earthquake and wind resistance
10. Termite proof
The whole LGS house system can be professional supplied under clients' design.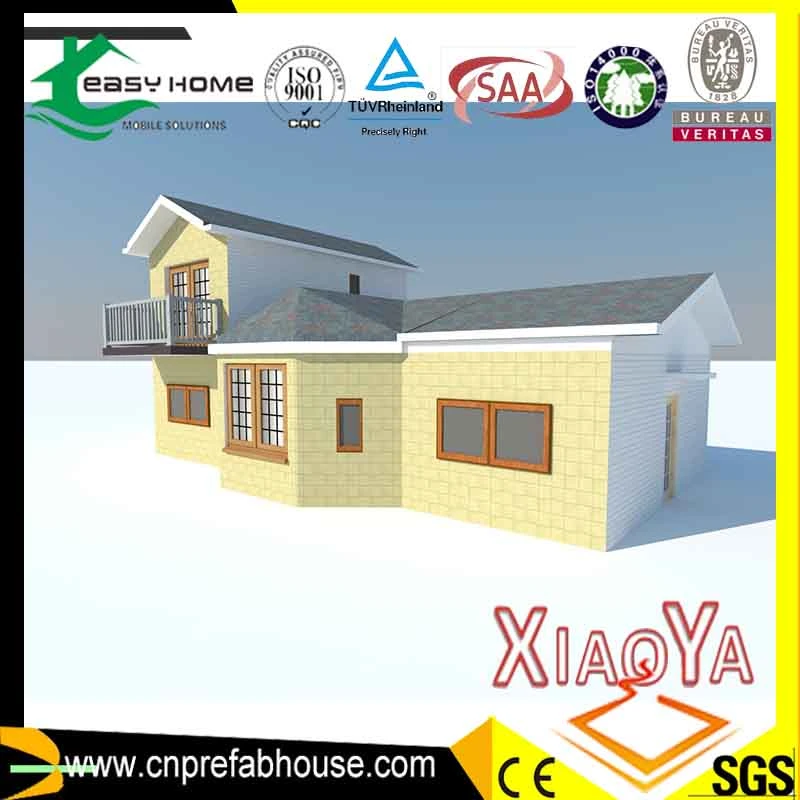 Founded in 2004,Hangzhou Xiaoya Prefabricated House Co.,Ltd. is the first prefab house manufacturer in
Zhejiang province which have accumulated year's experience in designing and manufacturing.
Our main products include:container house,prefabricated house, mobile environmental toilet,sentry box,
light steel structure villa,etc.Also,we provide housing customization services.
More than 80%of our products are export globally,such as Australia,South America,Europe,America,South
Africa,North Africa,Asia,Middle East,and other countries and regions.
1.Specifications:
1. Easy to assemble and disassemble: The house can be assembled and disassembled for dozens of
times and can be reused many times. And the assembling only needs simple tools without any power
source. Plugs and screws are all the needs to connect the pieces of the houses.
2.Strong structure: It adopts steel frame structure. Thus, it is stable according to the code of building
structure.
3. Durable: The steel frame parts are all processed with anti-corrosion coating and it can be used at
least for 20 years
4. Heat-insulation: The walls and roof are made of color-coated steel sandwich panels (EPS, PU
or Rock Wool) which is known for its food heat-insulating and fire proof performance.
5. Environment protection: The design of the house is reasonable. And it is easy to assemble and
disassemble.
6. Customization: The design of the house can be customized.
2. Usage:
The container house can be used for motel, hotel, apartment, classroom, office, meeting room, dormitory, shop, exhibition center, outdoor building... In the fields of building, railway, highway, water conservancy project, electric power, business, tourism and military use. The houses are all air-tight, heat-tight, warm-keeping, water-proof and anti-corrosive.
Product Description
3. Structure Configuration:
Sort

Name

Specification




Size

20' GP




40' GP




40' HQ

L*W*H(mm):6055*2438*2591




L*W*H(mm):12192*2438*2591




L*W*H(mm):12192*2438*2896








































Standard accessory










Insulated wall

Material: Glass wool, EPS, Rockwool, PU sandwich panel




or customers' requirement

Steel Thickness: 0.3mm, 0.35mm, 0.4mm




or customers' requirement

Wall thickness: 50mm, 75mm, 100mm, 120mm




or customers' requirement

Color: customers' requirement










Roof

Therma insualated, fire proof

Material: Glass wool, EPS sandwich panel




or customers' requirement

Thickness: 50mm, 75mm, 100mm, 120mm




or customers' requirement

Color: customers' requirement

Door

Aluminum alloy, wood, steel or customers' requirement

Window

Aluminum alloy, wood, or customers' requirement




Post

Light steel, Thickness: 3mm, 4mm




or customers' requirement

Aluminum alloy, wood, steel or customers' requirement

Decorative floor

PVC or customers' requirement

Water supply and Drainage system

Provided plan, design and construction or customers' requirement

Electric system

Provided plan, design and construction or customers' requirement

Technical parameter

Resistant temperature

50

°

C to 70

°

C

Fire proof

A grade

Earthquake resistance

8Grade

Wind resistant

120km/h
1.Packing detail: Shipping own container
Delivery detail: 20 working days after receive the deposit